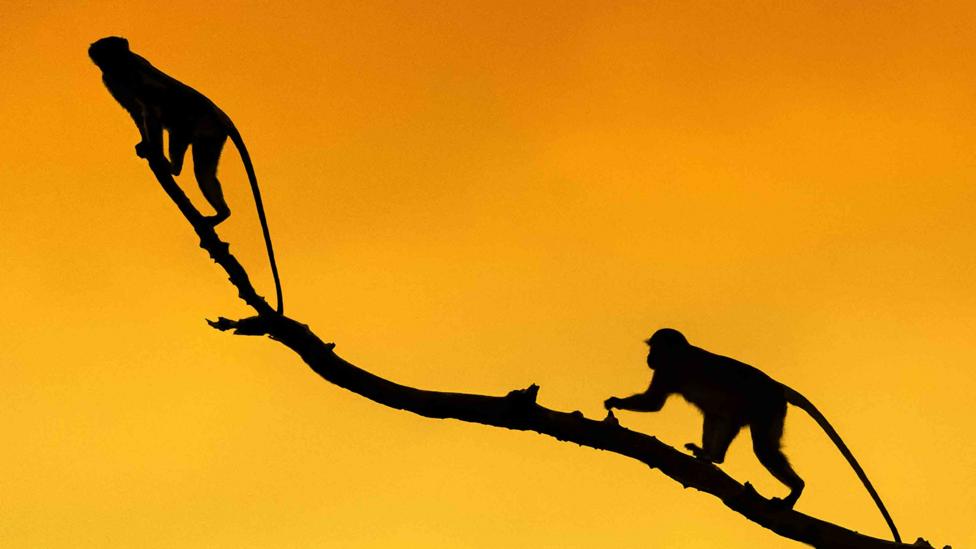 There has been a spike in poaching in many countries during lockdown – as well as being bad for wildlife, that raises our risk of exposure to new viruses.P
Pictures of smog-free skies and videos of lions and hyenas strutting across fairways could easily lead you to believe that nature is thriving during the coronavirus pandemic. For some species, lockdown may indeed be good news. For many other wild animals, however, that couldn't be further from the truth.
That's because lockdown means many things: in the cities of rich countries, it means less traffic on the roads and less pollution, which can give wildlife space to thrive. But in rural parts of poor countries, it means some people are being driven to extremes to support themselves through poaching.
"What we're seeing is an incredible impact on nature because millions of people are suddenly unemployed and they have nothing to fall back on," says Joseph Walston, head of global conservation at the Wildlife Conservation Society in New York City. "In places like South-east Asia, there's this huge urban-to-rural migration where people have lost their jobs in the cities overnight. They're now having to depend on poaching, logging or other activities that are degrading nature because they have no other option."
There have also been reports of a surge in bushmeat poaching in Kenya and other parts of Africa, as well as Cambodia, according to the non-profit Conservation International. In Africa's rural areas, one driver of this surge is the challenge people are facing in finding their next meal. "During lockdown, people can't go to work, especially those in the informal market – who rely on going out every single day to make ends meet and come back with some food," says Michael O'Brien-Onyeka, senior vice-president of Conservation International's Africa Field Division. "For example, the guy in the rural area who has to take out his motorbike taxi to go out and pick passengers to make a few bucks – he can't do that anymore."
Continuing to trade and consume wild animals is 'close to societal suicide'
Animals hunted for bushmeat are not the only ones at risk: the rhino, which is poached for its horn, is also vulnerable. International travel restrictions may have hampered wildlife trafficking across borders, but it is also leaving animals in the wild with much less protection.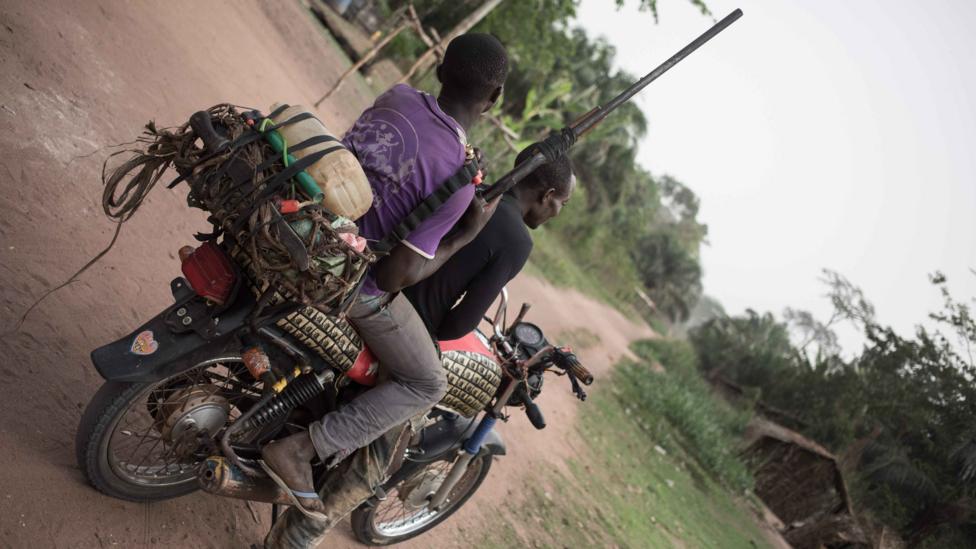 Poaching for bushmeat and animals such as pangolin increases the risk of new diseases passing into humans, but many people have few realistic alternatives (Credit: Getty Images)
Poachers have seen park closures, the diversion of law enforcement to Covid-19-related duties and reduced ranger patrols as "as ideal opportunities for exploitation", according to a report by the non-profit the Wildlife Justice Commission. The lack of tourists "who may unwittingly act as 'capable guardians' from within the parks" only increases this risk, the report adds.
"We are in receipt of intelligence that known poaching organisers operating across southern Africa are intending to take advantage of the current situation," says Sarah Stoner, the commission's director of intelligence. The organisation received information about six rhino-poaching crews intending to launch raids into Kruger National Park from neighbouring Mozambique in early April.
The ecotourism group Singita, which operates lodges in the Kruger National Park and other protected areas, also noted an increase in illicit activity. "There has been a spike in incursions, especially seen at the end of March with the super moon," says Inge Kotze, general manager of conservation at Singita.
Economic intervention
While far from being a silver bullet, the deployment of drones with thermal-imaging technology is one solution proposed to monitor ecosystems for signs of poaching or illegal logging. Expanding the use of other technologies, such as the Postcode Meerkat, which uses radar and both day- and night-time cameras to track illicit human activity in South Africa's Kruger National Park, may also help. But technology alone will not prevent the plunder of natural ecosystems – especially at a time when many people are jobless and hungry.
O'Brien-Onyeka says that to avoid large-scale destruction of wildlife, immediate interventions such as cash transfers or the distribution of food parcels in rural areas are what's needed. In the longer term, it will be important to diversify income streams, so that communities are not wholly reliant on ecotourism for their livelihoods.
But it's a fine line, says Bjorn Stauch, Conservation International's Africa conservation finance fellow, and economic interventions must be carefully planned. "During and post-Covid we need to ensure that money that was [destined] for environmental causes doesn't get repositioned and repurposed for social-only causes as this will exacerbate environmental problems," Stauch says. "Environmental and social impact are not mutually exclusive."
Pangolins, which are hunted for their meat and scales, are thought to have been an animal host of Covid-19 before it passed to humans (Credit: Getty Images)
A good example of this overlap is the Chyulu Hills REDD+ carbon project in south-east Kenya. Income from the sale of carbon credits as a result of the region's critical forests, woodlands and grasslands being protected are providing a cushion to local Maasai communities at a time when ecotourism (the area's other main employer) is on hold. The project's earnings currently provide employment to five teachers for the community as well as the 24 rangers which protect the 4,000 square kilometre area – a crucial corridor for wildlife connecting the greater Tsavo Ecosystem and Amboseli Ecosystem. In the coming months, an additional 21 rangers and three teachers will be recruited. The project is also providing the community with infrastructure, including water tanks, cattle crushes and 400 beehives.
Then there's the Alto Mayo forest in Peru, where since 2010 a carbon project reduced illegal deforestation by 75%. Over the same period, Conservation International worked with the local community to drastically increase their coffee yields through sustainable practices and to help them obtain fair trade and organic certification. When Covid-19 put exports on hold, income from carbon credits was able to ensure they could remain employed and fed. "Carbon is providing this bridge to when things do return back to normal," says Agustin Silvani, Conservation International's senior vice president for conservation finance. "It's a way of combining the goal of a company in terms of reducing emissions to a very real funding need in these places."
Another long-term solution for protecting wildlife is in fact to support domesticated animals and the people farming them. Working with rural communities to improve agricultural techniques helps ensure that they are resilient in the face of economic shocks, like the one caused by the pandemic. In areas bordering the Kruger National Park (as well as other parts of southern Africa), Conservation International and its partners have worked with pastoralists to improve livestock management. Not only have the new methods, such as high-density rotational grazing, helped to restore degraded and overgrazed grasslands, but the result has also been fatter, healthier cattle that yield greater profits – and, in the fight against poaching, that matters.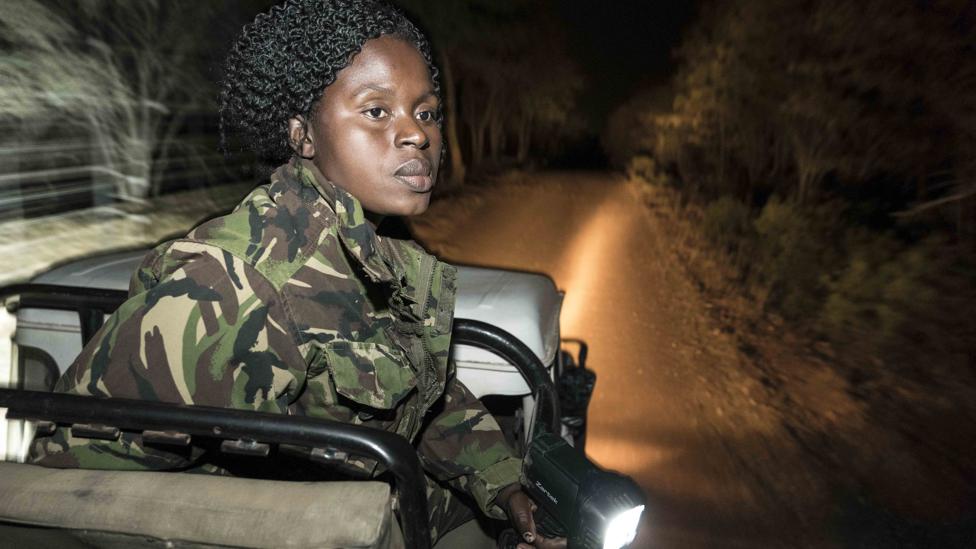 Anti-poaching rangers play a vital role in monitoring wildlife parks, but some have been less able to get into the field during national lockdowns (Credit: Getty Images)
"A quote from one of the community leaders actually speaks exactly to why we focused on the livestock value chain in the community," says Stauch. "He said, 'I will care about your rhino when you care about my cow.'" It's clear: to protect this iconic species and other wildlife, improving the economic wellbeing of their human neighbours is key.
In the forests of central Africa and other parts of the world, the Wildlife Conservation Society is working with the Food and Agricultural Organization and other partners to explore ways to improve food security and lessen the need for bushmeat hunting – or the clearing of forests to provide pastureland. One of the answers is the humble chicken. It needs a fraction of the land and water that cattle require, while providing protein-rich meat and eggs.
"Research also shows that when village poultry prices are comparable or lower than those of bushmeat, consumers prefer to buy and eat chicken. Thus, backyard poultry production at a scale sufficient to meet demand has the potential to dramatically reduce pressure on terrestrial and aquatic wildlife," writes Katherine Kreis, director of strategic initiatives at the public health non-profit PATH, with others, in a forthcoming article for the UN Food and Agriculture Organization.
Health risk
An increase in poaching during lockdown is not just a concern for those who care about wildlife and the environmental and economic benefits it brings. It's also worrying because it makes future pandemics more likely.
"We have lost 60% of all wildlife in the last 50 years, while the number of new infectious diseases has quadrupled in the last 60 years. It is no coincidence that the destruction of ecosystems has coincided with a sharp increase in such diseases," Marie Quinney, a specialist with the World Economic Forum's Nature Action Agenda, writes on their website. "Natural habitats are being reduced, causing species to live in closer quarters than ever to one another and to humans. As some people opt to invade forests and wild landscapes due to business interests and others at the other end of the socioeconomic spectrum are forced to search for resources for survival, we damage the ecosystems, risking that viruses from animals find new hosts – us." Quinney cites research that 70% of emerging infectious diseases came from wild animals in recent decades – including Sars, Aids and Ebola.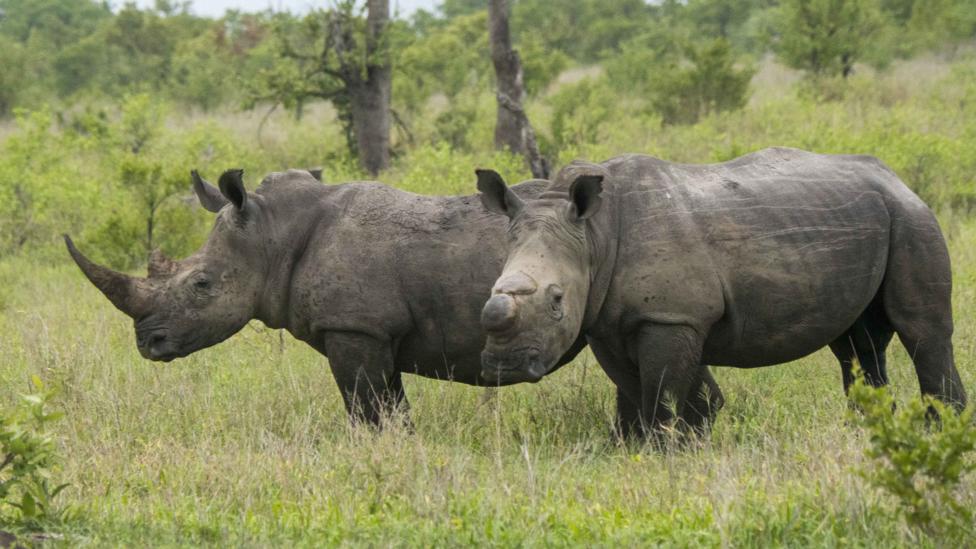 Rhinos are one species at risk from poachers while wildlife parks remain devoid of tourists and the watchful eyes of rangers (Credit: Getty Images)
To prevent the next pandemic, the Wildlife Conservation Society's Walston says that it's important "to close down the totally unnecessary trade for wildlife for consumption, which really is predominantly for luxury goods and middle-class consumption – and in many ways removes the most important resources for indigenous and local communities".
If the recent bans imposed by China and Vietnam on wildlife trade remain in place and are stringently enforced, "it's going to have a very positive impact", he says. The reason is that large markets that sell wildlife as food, such as the one in Wuhan, China, where it is believed the novel coronavirus emerged, "bring together all these species that haven't co-evolved together", says Walston. "You put them under huge amounts of stress. Their immune systems are compromised, they start shedding viruses, and there are all these possible intermediary hosts in close urban proximity to people. And of course, that's the perfect crucible within which to grow a zoonotic disease."
Tackling poaching and selling wild animals for food has to be part of a global effort, Walston adds – source countries need to strengthen regulation and enforcement too. "This is not about vilifying China," says Walston. "This is about us coming together and making a global decision that this trade now is antiquated." In a world where someone can transport a new infectious disease from one continent to another in just a few hours, continuing to trade and consume wild animals is "close to societal suicide".
To carry on as we are now is to raise the risk of the next global pandemic. Such a fate, however, is far from an inevitability. The tools to defuse the situation are already at hand, in tried-and-tested measures to provide alternatives to those who are economically dependent on natural ecosystems, while strictly enforced laws to clamp down on wildlife trafficking can deter opportunists. The health of the world – its people, economy and natural habitats – depends on it.
—
The emissions from travel it took to report this story were 0kg CO2: the writer interviewed sources remotely from the safety of lockdown. The digital emissions from this story are an estimated 1.2g to 3.6g CO2 per page view. Find out more about how we calculated this figure here.
—
Join one million Future fans by liking us on Facebook, or follow us on Twitter or Instagram.
If you liked this story, sign up for the weekly bbc.com features newsletter, called "The Essential List". A handpicked selection of stories from BBC Future, Culture, Worklife, and Travel, delivered to your inbox every Friday.
bbc.com